PHILIPPINE AIRLINES:
Pilots & Flight Crew Reports: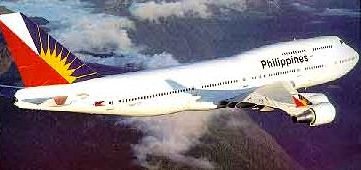 THE REPORT:
Flight crew of a Philippine Airlines flight bound for Manila encounters two strange "lights" and then a huge UFO over the Pacific some 1.5 hours away from Honolulu (Hawaii), and bound for Manila, PHILIPPINES.
WITNESS NARRATIVE STATEMENT:
PACIFIC OCEAN NEAR 180 DEGREES EAST - First Officer Arturo E. Buenaventura reports that in 1992, at 3:00 AM we were flying at 31,000 feet westbound for Manila when we saw two exceptionally bright lights like an incoming aircraft. It then disappeared.
After a while, a huge UFO appeared on the left side of our aircraft flying formation. It was enormous and had numerous lights and 'antenna.' The closest description I can give is that it was similar to the UFO in the movie "Close Encounters of the Third Kind." I was the First Officer on that particular flight. We never saw it approach us, it simply appeared off our wing. Then, as suddenly as it appeared, it disappeared like it had gone into another dimension.
This incident was witnessed by four aircrafts at that time. One was a Military Airlift Command's aircraft, a
Continental Airlines
jet, and two 747 aircraft Philippine Airlines Flights that had a stopover in Honolulu. We were about 1& 1/2 hours away from Honolulu bound for Manila..
WEBSOURCE / REFERENCE :
Gearge A. Filer
MUFON Skywatch Investigations


Enter supporting content here
DISCLAIMER
The publication of any and all content- e.g., articles, reports, editorials,commentary, opinions, as well as graphics, photos, and or images on this website does not constitute sanction or acquiescence of said content; it is solely for non-commercial informational purposes.
FAIR USE NOTICE
Pages on this site may contain copyrighted materials the use of which has not been specifically authorized by the copyright owner. This website distributes these materials without regard to commercial purposes, or profit, and intended to benefit those who have expressed a prior interest in receiving the included information for scientific research and educational purposes.
We believe this constitutes a fair use of any such copyrighted material as provided for in 17 U.S.C § 107.

NOTE TO AUTHORS
If you are the author of any of the items /information / article/ and or any other relevant material herein displayed and exhibited, and do not wish to have these articles/materials used/ printed/ promoted/ on this website, please write to us at:
Philippine Center for Aerial Phenomenon Studies,
for appropriate action.
Copyright ©2008 /Philippine Center for Aerial Phenomenon Studies /
All Rights Reserved